Webpros brings a unique blend of testing processes, tools and technology expertise, and domain knowledge to ensure that the product is delivered without defects in an accelerated time frame. Webpros provides end to end manual testing services for your functional testing needs with a foundation of matured test processes, in-house accelerators, and experience of all industry-leading functional testing tools.
We undertake the complete responsibility for the testing activities from creating an optimized test plan to post production support. We adopt a user-centric testing approach, delivering continuous value improvement in our engagements. We ensure complete traceability of the business requirements to the test cases designed and executed for extensive test coverage. As a professional company for manual testing, we provide extensive reporting with customized dashboards at regular intervals to keep you on top of the testing progress and defects.
Manual Testing
Manual Testing is a type of software testing in which test cases are executed manually by a tester without using any automated tools. The purpose of Manual Testing is to identify the bugs, issues, and defects in the software application. Manual software testing is the most primitive technique of all testing types and it helps to find critical bugs in the software application.
Any new application must be manually tested before its testing can be automated. Manual Software Testing requires more effort but is necessary to check automation feasibility. Manual Testing concepts does not require knowledge of any testing tool. One of the Software Testing Fundamental is "100% Automation is not possible". This makes Manual Testing imperative.
Types of Manual Testing: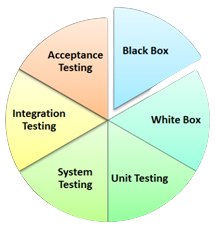 Our QA professionals manage the testing from the early stages of development, so our clients can focus on feature development. We support our esteemed clients by:
Developing Test Strategy
Designing Test Cases
Implementing Tests
Managing Defects
Reporting Results
Procedure adopted for manual testing
Read and understand the software project documentation/guides. Also, study the Application Under Test (AUT) if available.
Draft Test cases that cover all the requirements mentioned in the documentation.
Review and baseline the test cases with Team Lead, Client (as applicable)
Execute the test cases on the AUT
Report bugs
Once bugs are fixed, again execute the failing test cases to verify they pass.